Uniting the Community through Atlantic Dental Care's Charity Golf Classic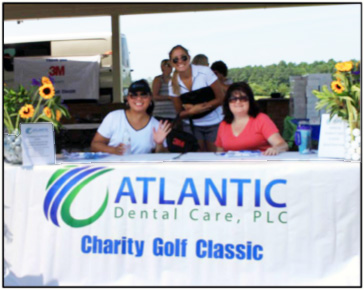 At last count, an estimated 25 million Americans played golf. It's no surprise charity golf tournaments remain such popular venues for people to rally around worthy causes and have fun at the same time.
Many of our Atlantic Dental Care dentists enjoy golfing, too. That's why they gather on the greens each June for a Charity Golf Classic that connects them with other dental professionals, patients, sponsors and friends for some enjoyable and fun competition and fundraising.
Marking its fifth year in 2018, this time at Cypress Point Country Club, our annual Charity Golf Classic has hit its sweet spot, raising more than $155,000 to date. It's our privilege to donate 100 percent of the proceeds to the free dental clinics in Hampton Roads and a charitable organization that provides funds for people with oral cancer. Clinics and charitable organizations include: Mission of Mercy Project, Beach Health Clinic, Chesapeake Care, Park Place Health and Dental Clinic, Community Free Clinic of Newport News, Lackey Clinic, Bon Secours DePaul Medical Center and Oral Cancer Cause.
Bringing the community together for camaraderie while supporting others aligns with Atlantic Dental Care's vision and commitment to the communities in Hampton Roads. We appreciate our sponsors and participants who come together for a day of fun for a great cause!
The 2018 ADC Golf Classic took place on Friday, June 8 at Cypress Point Golf Club.